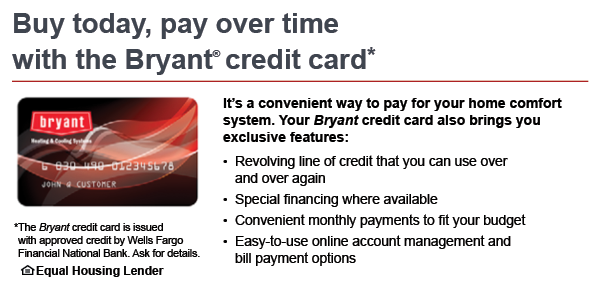 A new heating, ventilation and air conditioning system is a significant investment you can make to ensure absolute comfort for you and your family. Heating and cooling system draws air from the outside so that it can heat and cool your home. On average, units can last between 15 to 25 years as per the statistics from the National Association of Home Builders.
Financing Options for HVAC Systems
We proudly offer this financial option for new HVAC systems. This option is not only flexible but also affordable and can suit almost any budget. Our flexible funding option allows you to have a functional HVAC system that offers the comfort you deserve. Our program makes it easy to upgrade or replace your air-conditioning equipment fast, and promptly.
Whenever you choose to work with us, you have the ability to pay in affordable monthly installments. Our reliable heating and air conditioning financing program gives each of our customers the right option suitable even for the most constricted of a budget. We understand that your new home comfort is a vital investment, which can offer energy savings for years to come.
We provide reliable financing for complete installations, replacements and even a simple repair. Lack of funds is not a reason to not go ahead with your next project as planned or to address any emergency situations that are bound to arise. We have a principle goal of finding our valued customers the most suitable financing program. Take advantage of our convenient payment options. And most of all, enjoy our services to your satisfaction.
Benefits of Our Financial Options:
There are numerous advantages to financing your heating and air conditioning equipment with us. These advantages encompass the following:
– Affordable Monthly Payments—once you apply for one of our convenient financing programs for HVAC system, we make decisions fast so you can move on with the project as planned. Our monthly payments are affordable and flexible because we give you the ability to pay over time.
– Credit Decisions—we never delay the credit decisions. We work with Wells Fargo Financial to provide instant credit approvals based on the customers current credit and financial status.
– We consider all our valued clients—our air conditioning financing programs support a full range of credit quality. Also, we provide funding for all business sizes; whether small or big. That means startups and established companies have a place with us.
– Minimal upfront cost—in comparison to loans, we provide minimal upfront cost. Furthermore, our programs address new and used heating and cooling equipment for utmost convenience.
– Transparent process devoid of surprises—we ensure that you're taken through all the funding options while highlighting the benefits of each. That way, you have all the right info to make informed decisions based on your budgetary allocation.
Overall, using our funding program is a smart approach to pay for your investment. Through our programs, we ensure our customer can access flexible plans and payment options that address all their HVAC needs. We offer home comfort solutions that suit and satisfy both your needs and budget.
We've designed our HVAC financial programs to help our customers get furnaces, heat pumps, boilers, chillers, and more. You get all these solutions as fast and painlessly as possible. Whether you need to upgrade your system to make your next summer nights cool and pleasant or just urgently in need of a gas boiler replacement in winter, we have the right solution for you.