St. Croix Valley, Wisconsin Area Plumbing, Heating and Air Conditioning Professionals
Expert Plumbing, Heating, and Air Conditioning Service Since 1950
Serving the St. Croix Valley since 1950, Countryside Plumbing & Heating has been providing guaranteed service in home comfort. Simply put, we specialize in keeping our customers comfortable. We've made it our mission to always exceed customers' expectations by analyzing each customer's unique comfort needs and wants, recommending the best possible plumbing, heating and/or cooling system to meet efficiency and comfort requirements, and providing prompt, courteous service. By providing personal, individualized attention, we are strengthening the connection between our company and our customers. Our customers can rest assured that twenty years from now they'll still receive the same outstanding service they've come to expect from our technicians! Countryside Plumbing & Heating has been and will continue to service all your plumbing, heating and air conditioning service needs throughout the current century and beyond.
FAMILY OWNED & OPERATED HVAC AND PLUMBING CONTRACTOR SERVICE
Countryside Plumbing & Heating Co., Inc. is proud to be a family owned and operated Contractor. We employ highly trained Union Plumbers and HVAC Installers & Technicians and strive to not only meet, but to exceed, industry standards.We know that finding a reliable plumbing, heating and cooling company is a difficult and sometimes a costly endeavor. Free estimates are offered for large projects and unit replacements, and we always guarantee our work! We are fully licensed and bonded and the combined experience of our plumbers and HVAC technicians number well over 500 years!!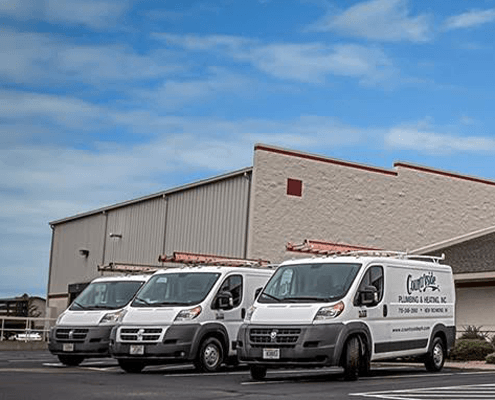 Plumbing, Sheet Metal, Heating & Air Conditioning Services We Offer
Countryside Plumbing & Heating offers a full line of sheet metal, plumbing, heating, and air conditioning services. We are happy to help with any project from assisting the "do-it-yourselfer" with small remodeling and repair projects to complete residential and commercial remodeling and new construction projects. We have 24-Hour Emergency Service to call for any emergency repairs that may arise. We offer our services to a vast area that includes all of St. Croix County, much of Polk County and Pierce County, as well all surrounding areas. On any given day, you can easily see one of our 20 trucks throughout the community and northwestern Wisconsin. We are a Bryant FAD (Factory Authorized Dealer) with a wide range of products that include furnaces and air conditioners for your HVAC needs.
Countryside Plumbing & Heating's History
Countryside Plumbing & Heating began serving the New Richmond community in 1950 under the name of Schwantes Heating. In 1955, Dick Allers and Len Peterson bought it and the name was changed to A-P Heating. In 1962, the name was changed to Early Plumbing & Heating. For most of these early years they operated out of a small building on North Knowles Avenue, and in 1965 they erected and moved into a location at 753 South Knowles Avenue in New Richmond. In 1976, the name was changed to CIR Plumbing & Heating.
Jim De Young began working for them in 1970 as a Plumber, and in early 1982, Jim and Carol De Young bought the business and changed the name to Countryside Plumbing & Heating, Inc. In April 2000, we moved into our current facility at 321 Wisconsin Drive where we have a 15,000 square foot building that includes our offices, warehouse and fabrication area and 1600 square foot showroom.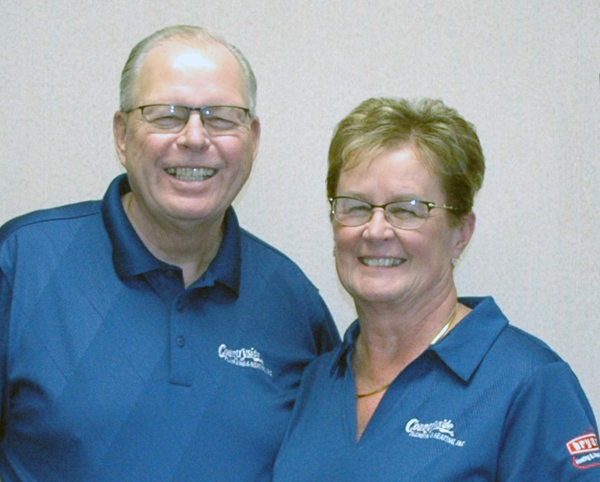 The second generation of the De Young's is now taking a leadership role in the day to day operations and management of the company. Tim De Young is our Vice President & General Manager as well as a licensed Master Plumber in Wisconsin and Minnesota. Bill De Young is also a Vice President and is a trained Sheet Metal Technician and Heating and Air Conditioning Department Manager.
Troy Quade joined Countryside in 2004 and is the Residential Heating & Air conditioning Department Supervisor and Estimator. Jake Singerhouse is in charge of the Commercial Heating Department and joined us in 2015 as a HVAC installer and became part of the commercial sales team in 2017 after graduating from CVTC in Eau Claire.  Sheila Voster is the HVAC Service Manager and Paul Koehler is the Plumbing Service Manager. These are the people you will talk to when you want any type of service scheduled. As you can see, we are proud of our reputation of being able to provide you with many years of experience and knowledge in the Plumbing & HVAC business.
We have also been a part of many of the remodeling and renovations at other area financial institutions, schools and churches. We currently are involved with the plumbing and/or heating in as many as 250 new homes a year plus many multi-family apartments and town homes. We have shared in much of the growth of our area and hope to continue to be involved in the potential future growth and improvements in the years to come.
In 1989, we were awarded the "Kohler Registered Showroom" distinction and in June, 1991, "Plumbing & Mechanical Magazine" awarded Countryside their prestigious "PM100 Club" distinction, recognizing us as one of the top 100 plumbing dealers of our size in the nation. We are currently proud to be members of the National & Wisconsin Plumbing, Heating & Cooling Contractors Association and St. Croix Valley Home Builders Association as well as the New Richmond Area Chamber of Commerce, and New Richmond Rotary Club.
Our plumbers are members of the Plumbers and SteamFitters Local #434 and the heating and cooling staff are members of the Sheet Metal Workers Local #18. Countryside was honored in 2005 as the "Large Business of the Year" by the New Richmond Area Chamber of Commerce. In 2009 they were also recognized as an outstanding employer of Apprentices by the State of Wisconsin Bureau of Apprenticeship Standards. Carol De Young, who has recently retired, was named the "Rotarian of the Year" in 2014 by the Rotary Club of New Richmond and was named as the first recipient of the "Honorary Rotarian" award in 2020. She was also named the 2015 "Professional & Business Woman of the Year" by the New Richmond Area Chamber of Commerce.
Tim De Young is the Secretary & advisory member of the local JAC (Journeyman Advisory Committee) for the State of Wisconsin. Carol De Young was selected in 2007 as an Employer Advisor Delegate to the State of Wisconsin Bureau of Apprenticeship Standards Committee. She is also on the Board of Directors for the Wisconsin Plumbing, Heating & Cooling Contractors Association and will serve as serving as President of the Wisconsin PHCC during 2017-2018. Carol was featured in the July 2019 edition of the P-H-C Magazine as one of the "Women in Plumbing" who are making their mark in the plumbing industry. She is also an alumni member of the Bryant "Women in HVAC" that is a nationwide group of women leaders in the HVAC industry across America.
Countryside started with six employees in 1982 and has grown to over 35 full-time employees at this time. Our employees drive to work in New Richmond from as far away as Prairie Farm, Downing, Menomonie, Hammond, Amery, Balsam Lake, Hudson and River Falls, as well as many of them living in the immediate area.
If there is anything we can do to help you, please be sure to call or stop in. We have an excellent staff ready to serve you. Cammi De Young is the Showroom Consultant & Office Supervisor as well as the Showroom Contract Sales Manager. She is happy to schedule an appointment with any customers to help give you one-on-one help with selecting and ordering your plumbing fixtures and faucets. As you call or come into our showroom, you will meet several members of our competent staff. Tom Sorum is the Retail Sales Manager and licensed plumber who has been with this company since 1990. Jennifer Mickelson is the voice you hear on the phone or the face that greets you as you enter our office/showroom area.