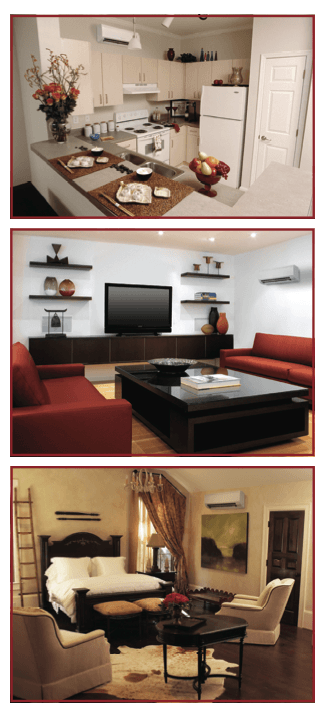 Countryside Plumbing and Heating Inc. is an air conditioning, heating and plumbing contractor serving both residential and commercial clients in St. Croix Valley and surrounding areas. We are a family owned and operated business with more than 65 years of experience in the industry. We specialize in the installation, maintenance and repair of furnaces, air conditioners, water heaters, water softeners and all related products.
We offer air conditioning and heating products from major brands including Mitsubishi, Bryant, and Weil-McClain. However, our team of experienced and qualified service technicians can handle any HVAC, mechanical construction, or plumbing problem you may have. We also offer a wide range of high quality plumbing products from all the major brands in the market.
Mitsubishi Air Conditioning and Heating Products
We have achieved the highest level of accreditation from Mitsubishi Electric Cooling & Heating. As a factory authorized dealer of Mitsubishi heating and air conditioning products, we have invested a lot of time and capital to develop reliable, personalized, and hands-on expertise in sales, installation, repair, replacement and service of Mitsubishi HVAC systems for our Wisconsin customers. When you work with us, you can rest assured that you are getting the highest quality services from the most experienced factory trained professionals.
Energy Efficient Mitsubishi Air Conditioning and Heating Systems
We are the industry leaders when it comes to Energy Star rated systems. Our range of Mitsubishi HVAC systems continues to grow as the air conditioning and heating technology evolves. We offer 15 new Mitsubishi Energy Star rated systems with a SEER rating of up to 26. These state–of–the–art units integrate dual and triple allergen filtration, eco–comfort technology, and are super–quiet.
Mitsubishi air conditioning eco–comfort technology makes the systems more energy efficient and smarter. The technology incorporates many additional features such as a sensor that detects room temperature differences and adjusts the unit's settings, and multi–stage filtration systems for enhanced indoor air quality. In addition, Mitsubishi Electric's indoor units operate with very low sound levels, even lower than a human whisper.
When it comes to the heat pump, Mitsubishi Electric's HVAC systems do not use cold air delivery like older, inefficient systems. In contrast, the Hot Start™ system activates the fan only when the desired temperature is reached; therefore, it never blows cold air. In addition, our units are easy to install, simple to service and have longer warranties. We are committed to keeping your air conditioning and heating system running at its peak efficiency for longer; therefore, we have extended our warranties to 7 years.
Call Us Now For the Purchase, Installation, Service or Replacement of Mitsubishi Heating and Air Conditioning Systems:
715.246.2660