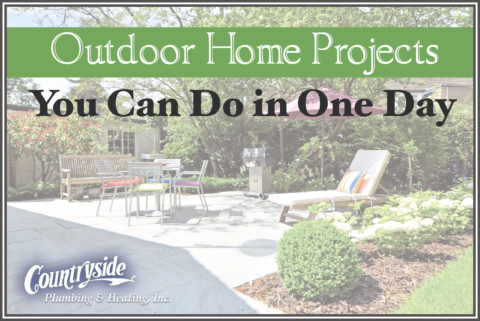 Now that summer's here, everyone wants to spend time outdoors. This is the right time to prepare your outdoor space for more activity, especially if you're planning to invite people over. Get your creative juices flowing and your tools ready for these easy outdoor home projects you can finish in one day:
1. Turn a Backyard into an Outdoor Theater
Imagine all those starry nights curled up in cushions and munching on popcorn with the whole family while enjoying the cool nighttime breeze. Setting up an outdoor theater is easy if you already have a projector. You just need a surface to bounce the images off. A piece of thick white cloth will do just fine. Secure it in place using a thick rope tied to nearby trees or hanging from an outside wall.
2. Add a Canopy to Your Outdoor Dining Area
Outdoor dining instantly makes any lunch or dinner more appealing, especially to guests. To weatherproof this outdoor area, or to have some shade when you're dining in the daytime, secure two pieces of rope positioned parallel to each other. Make sure their distance covers the area of your outdoor dining area. Then, use thick curtain systems so that you can roll them up when not in use. You can also use shower curtains if you're preparing for the rain. The good thing about this system is you just have to undo one end of the ropes to slide off the curtains and replace them with new ones.
3.  Create Outdoor Lighting with Painted Mason Jars
You don't need to pay top dollar for outdoor lighting in fun colors–just repurpose those mason jars you've bought by the dozens because they were trending. Paint them different shades, fill them up with fairy lights or battery-powered LED lights, and position them in certain areas in your garden.
4. Build Giant Game Pieces
What better way to spend time outdoors than by playing your favorite games? With a few pieces of wood, you can make a giant Jenga set that will give you hours of fun. If you have a bigger outdoor space, why not paint tiles alternating colors of black and white, and create giant chess pieces?
5. Use Cinder Blocks as Planters
Those leftover cinder blocks don't have to be stashed away in a corner or hidden in the tool shed because they ruin the look of your outdoor space. A simple coat of paint can transform them into colorful planters. Arrange them any way you like and combine colors to add charm to your mini garden.
6. Color Cement Tiles
Say goodbye to a boring backyard. It's time to amp up your backyard's aesthetic by coloring random cement tiles. The splash of color makes your home look like it's been carefully designed by a landscape artist. It's even better if you spray-paint pebbles lining the driveway with glow in the dark paint, so there is a glowing path to guide you as you walk at night.
Who says an afternoon spent outside won't result in something magical? With a few hours to spare, you can start an outdoor improvement project that can give your space an instant style upgrade. No one has to know how much–or how little–time you spent on these projects.
One outdoor project that's less fun is to maintain or replace your outdoor HVAC unit. Save time and stress by leaving that one for the Wisconsin HVAC pros at Countryside Plumbing & Heating, Inc. You can also save money by taking advantage of our air conditioner offers. Contact us today to ensure that the offer is still valid.
https://www.countrysideph.com/wp-content/uploads/2017/07/Outdoor-Home-Projects.png
1549
2315
jnaab
//countrysideph.com/wp-content/uploads/2016/11/Countrysideblue.png
jnaab
2017-06-30 21:32:03
2017-07-03 21:55:05
6 Outdoor Home Projects You Can Do in One Day