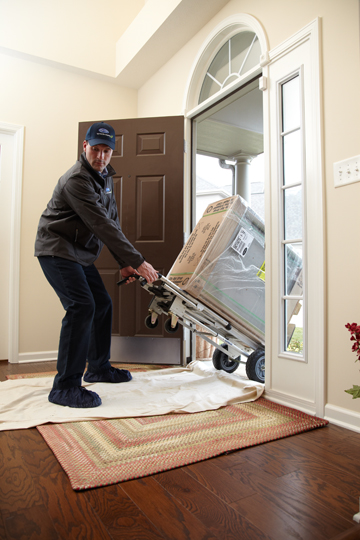 Energy consumption for heating and cooling systems accounts for around 5 percent of the electricity produced in U.S—this is almost $15 billion. As a homeowner, therefore, going for energy efficient systems makes a lot of sense. Correctly sizing your heating and cooling system is one way that you can use to cut down your energy costs.
Unlike older homes, modern homes have many other additions including more windows, weather stripping, insulation, and caulking among other features. This implies that even with a smaller system, you can still keep your home comfortable and save money in your monthly utility bills.
Generally, over sized heating and cooling systems are:
Expensive to install
Operates inefficiently; will break more often; and will cost you more to operate
Create uncomfortable and wide temperature swings
Will not run long to dehumidify air and may contribute to mold growth
Have frequent starts and stops which accelerates their wear and tear and eventual equipment failure
Use more fan power and are vulnerable to duct leakage problems due to high duct pressures.
Sizing Your Cooling and Heating System Correctly
Most contractors will only check the label listing of your existing system and advice to go for a similar one, or even worse, one's that's bigger. Others will also base the size of your HVAC system on what other customers (with similar home size) settled on or purchased. These are not the correct way to size HVAC equipment and are never in your best interest.
The best methods that you should use are the Manual D (Residential Duct Design) and Manual J (Residential Load Calculation) methods. The two methods take into account factors such as size and orientation of your home, insulation levels, air infiltration rates, occupant preference levels, age and number of occupants, window location, roof surface color, local climate, efficiency of major appliances that produce heat, duct air leakage, and window building materials among other factors.
Correct HVAC sizing will impact your home's comfort level, energy costs, and the lifespan of your equipment. Before you install your HVAC unit, therefore, ensure that you understand the significance of your system correctly.
For more information follow us at //countrysideph.com/blog/
https://www.countrysideph.com/wp-content/uploads/2015/07/furnace-install.jpg
540
360
//countrysideph.com/wp-content/uploads/2016/11/Countrysideblue.png
2015-07-21 06:00:41
2015-07-21 06:00:41
How Important Is It To Get The Right Size Of Heating And Cooling Equipment?